… Ink Plus on boardTHE inaugural Georgetown Softball Cricket League Inc. (GSCL INC)-organised inaugural Prime Minister T20 Cup, is set for October 27-29, with several teams from the Diaspora set to participate.Everest cricket ground will host the finals on October 29, where $600 000 will be up for grabs in the Open category, while the Masters will vie for the winners' purse of $500 000. Both categories will have a runners-up prize of $100 000 as well as trophies.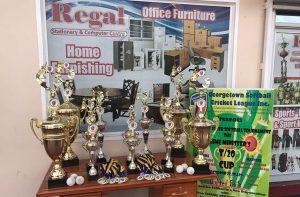 Some of the Trophies up for grabs in the Prime Minister's T20 Softball tournamentAccording to the organisers, no registration fee is required to play in the 'first of its kind' T20 tournament. A team briefing is set for 13:30hrs at Malteenoes where the rules and other matters in relation to the tournament will be discussed.Malteenoes, GYO, GNIC and the Demerara Cricket Club (DCC) grounds are the other venues where matches will be played simultaneously on October 27, 28 and 29.Meanwhile, Chief Executive Officer of Ink Plus, Danny Persaud, yesterday presented a cheque to GSCL Inc. treasurer Russel Jadbeer at the entity's location E1/2 84 Laluni Street, Georgetown.Persaud said that they are happy to be on board for such a tournament and wished the teams well, adding that he is looking forward to a successful event. Jadbeer expressed gratitude to the sponsor and said he is looking forward to having continued support.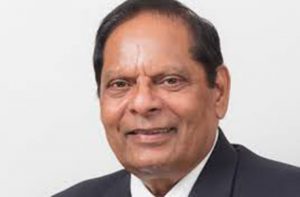 Prime Minister Moses NagamootooThe tournament, which is being played in collaboration with National Sports Commission, will feature the Open and Masters categories with teams from New York, Florida and Canada as well as the three counties of Guyana.Lighted bails will be used in the competition and added entertainment will be provided by the Crossover band and cheerleaders during the finals at Everest Cricket Club.